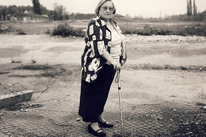 In 2009, the BBC launched the My Story competition to find the most remarkable true life stories in Britain. Altogether over 7,500 people sent in their stories by post. The winners' stories were broadcast on BBC One in 2010 and the judges' top stories were published as books.
My name is Iby.
I was born in 1923 in Czechoslovakia. We lived in Bratislava. In my primary school the teaching language was German; later I went to a German Grammar school.
At the end of Year 9, my mother told me that I was to transfer from that school to the Czech Grammar School because I was Jewish. As religion had never been a topic in our home this was rather a shock to me. I attended a Czech Grammar school until I was 16. By this time Slovakia was a Nazi puppet state and Jewish students were not allowed to attend academic institutions beyond that age but had to learn a 'practical' skill. As I had been told at school that I could not draw, I did a course in Graphic design.
We were living in a nice part of the town and were now forced to leave our apartment. The family business was 'aryanised' [ taken over by non-Jews]. All Jewish people had to wear a yellow star on their clothes and were not allowed to sit down on public transport. I found the situation unacceptable, covered my yellow star with a scarf and decided to walk to school. We were the last to be served in shops.
In February 1942 Jewish girls in Slovakia were rounded up to be prostitutes for German soldiers at the Russian Front. None of them survived. My mother had been warned of this and decided that I had to escape. I hid at my grandparents' house in a small village. Then I was taken to another village and I was hidden there. Eventually I escaped across the border into Hungary; I was now an illegal immigrant.
My aunt in Budapest was scared and refused to help me, so I stayed with a cousin. I had to stay quiet and hidden in the daytime. When my cousin was called up to the Labour Battalion I stayed with a solicitor friend of his, who was involved with the resistance movement. I also got involved –we were helping escaped airmen. I was caught, tortured, and held for three months in prison.
On being released I was arrested as an illegal immigrant. The next two months in a detention centre were horrific. Next I was taken to a internment centre in Budapest and finally to refugee camp in northern Hungary where I worked in the fields as all Hungarian able bodied men were by now in the army.
In October 1943 my parents, brother and grandmother also escaped to Hungary and were interned as illegal immigrants in Budapest. In February 1944 I was allowed out on parole and I worked as a nanny for a distant family member in Szekesfehervar in Hungary.
When the Germans occupied Hungary  in May 1944; the restrictions on Jews were intensified. As I wasn't Hungarian, but classed an 'illegal immigrant' I did not have to wear a yellow star this time! Nevertheless I was still rounded up with Hungarian Jews in Szekesfehervar – I was at the wrong place at the wrong time – and taken to a brickyard. They emptied the hospitals of Jewish patients and put them also there; I helped to nurse them.
On 12th June 1944 we were told that we were being transported; none of us knew about the existence of Auschwitz. We were loaded into cattle wagons – the journey lasted five days. Our wagon had  patients and there were a few doctors and nurses.
When we arrived, men in striped pyjamas opened the doors and told us to leave the sick, the old and the children. Men and women were separated. I and four other women – two of them doctors – linked arms and moved past Dr. Mengele through the gates that proclaimed: Arbeit macht frei. We had arrived at Auschwitz.
We were told to strip, had the hair shaved off all over our bodies and were then pushed into showers. Normal practise included, at this stage, the registration and tattooing of each persons' identity number on their left arm, but there were so many of us that  that the ink run out and I was not tattooes. We were given some clothes and taken into the camp.
Two hundred and fifty women went into each hut. The kapos (in charge of my hut) were Czech; I could speak to them and got a slightly larger ration of watery soup and also a slightly larger piece of blanket. There was so little room we had to sleep squashed up like spoons.
Every morning, midday and evening there was Apell – everyone was counted, this could take three or four hours. You had to strip and hold your clothes above your head. If you swayed or stumbled you were taken away and never seen again. We were taken to be showered once a week. If anyone was taken ill they were taken to the hospital hut and usually then to the gas chambers. Worse then hunger was the thirst. It was summer and there was no water at all.
Makeshift latrines were lined up between the huts, in the open.
One day the latrines were taken away, tables and benches appeared, we were given better clothes and told to write a postcard home . A representative of the Pope was visiting. I told him in Latin 'do not believe what you see'. I have no idea whether he understood or realised that a show was being put on for his benefit.
On 26th July Dr. Mengele asked for volunteers. I, with the two doctors and the two nurses who had come together to Auschwitz had realized that if we stayed there we would eventually die. We therefore volunteered and went with a slave labour transport of five hundred and thirty Hungarian women to Lippstadt. We spent overnight in another hutment, where a twin I knew from Szekesfehervar asked me to tell the world what I had seen because twins were being experimented on by Dr. Mengele and they did not believe that they would survive. We left on 27th July.
In Lippstadt I was put in charge of the hospital unit as I spoke perfect German. Medication was elementary. Three of the women were pregnant and gave birth in the camp. Two hundred and fifty additional women came from Auschwitz in November 1944. They were all sorts of nationalities – and they brought typhoid with them. This resulted in a typhoid epidemic – I and one of the doctors volunteered to care for them in an isolation part of the hospital.
In mid-March 1945 the hospital unit was evacuated – they were being taken to Bergen Belsen – one of the babies was stood on and killed by a German soldier.
A week or so later – there was now no longer any work in the factory and there were air raids all the time –they started to march us towards Bergen-Belsen. Those lagging behind were shot. I developed problems in my hip and found it difficult to walk. My friends supported me and helped me to keep going. After nights of walking and days hidden in barns, we could see American tanks in the distance. The German guards started to crawl back into the woods and seven hundred women in rags surrounded the tanks.
It was Easter Sunday 1945.
After a period in a German hospital, I worked for the Military Government and Control Commission, Germany until September 1946, when I returned to my mother and brother in Bratislava. My father had been gassed on 28th October 1944 in Auschwitz, just before the Germans destroyed the crematorium and gas chamber.
I married Bert, a British Army Officer, on 6 December 1946 in Bratislava and came to England in March 1947.
For fifty years I lived the life of an Army Officer's wife. I made his family and its history mine. It was only after his death and after my children had left home and made their own lives that I felt the need – and the duty – to recall my own past and to record my own history. It was actually precipitated by the question of a fellow-student on an MA course in Theology. Only with the help of friends who supported me throughout the trauma of recalling the harrowing details of what happened to me during the Second World War was I able to write the story of the woman without a number.