My name is Iby Knill and I am the author of "The woman without a number". and of " The woman with nine lives" Sort of : two halves of a life  and, hopefully, more to follow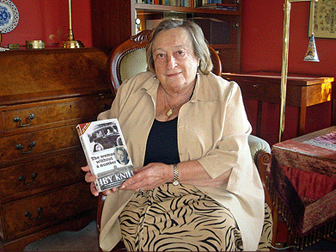 I  was featured on BBC 1 in October 2010 in their series : My story, which aimed to find the best stories in the UK. The BBC dubbed it 'an inspirational story of holocaust survival'.
I am a writer, mainly of short stories and I actually wrote most of the first book a few years earlier – the reason why is another story . I made no effort to publish it then; it was meant for my grandchildren, since I had not told them or my children about my experiences during WWII. Life is for the living and the past should take care of itself. Yet it would have been churlish to deprive them of the knowledge of the adventures I experienced.
We have to learn from history; if we don't, future generations will make the same mistakes, will try to reinvent the wheel.  I go and talk to young people – and those not so young, to make them realise how invidious and destructive the spread of intolerance and of prejudice of an ethnic group can be, not only on the recipient but also on the instigator. You can read about it, but nothing is as telling as a survivor telling their own story.
In the last six years I have spoken to 50,000 young people, big organisations, from small groups to audiences of several hundreds, in schools, universities, theatres, clubs, church halls and even in the Palace of Westminster. [Why only in the last six years? I had other fish to fry, other lives to live before then. That's where my second book comes in – [published in March 2016]
I have recently had an article published in the Women's Historical Review and you can read the article via this link
http://www.tandfonline.com/eprint/c2zzkqggH2DuvATJBFrea/full
The Review is published worldwide, and is printed in the USA, Canada and the UK.
If you are interested and want to know more: look in the 'FAQ' section.